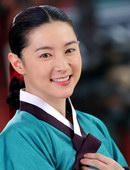 十六世纪中,孤女长今七岁时,父母因卷入宫廷阴谋而遭杀害。为完成母亲的心愿,长今因缘际会进入宫中,因天资聪明和刻苦努力而受到瞩目,但也在宫中人事的倾轧中遭到陷害,甚至还被流放到外岛,历尽艰辛。但长今不向命运低头,潜心学习医术,并融入宫廷膳食中,最后竟意外挽救皇上的性命,受到王室的信赖,成为韩国第一位女御医,受封为"大长今"。
Link to online book:
《大长今》
I known this long drama episode in Astro. Everytime when I go back to Penang, I will have some chance to watch at the TV. (KL house no TV).
First time, I saw the main character was a servant in the kingdom whom serve food.
2nd time, I saw she was a doctor.
3rd time, I saw the last 2 episode until the end of the story.
Hahaa.... what a way to finish up 1 long drama which is 70 hours long.
Every friend of mine seems to chase this movie. Why? Isn't those drama that cry cry and drag drag for very long? Hmm....
But later, what amaze me is that this is not a normal drama, it a real history in North Korea. Wah!!
Put this movie in my List 1st, before I forget.